All The Movies You Have To Watch This Fall
If you've been reading my blog for a while, or following me on any of my social media platforms, you'd know I have a real love for Fall. In a perfect world Fall weather would start after labour day, and remain beautiful and crisp until December 1st, where it would then snow for exactly one month before returning to Fall temperatures. However this is not possible, so instead I am always sure to make the most of the season, in all possible ways. I plan the usual Fall activities: apple picking, picking and carving a pumpkin, buying lots of Halloween candy etc. I buy pumpkin spice flavored everything, and bake with copious amounts of apple and cinnamon. I'll always hit up Bath and Body Works, and make sure I'm stocked up on Fall scented candles, and I've got multiple Autumn/Fall dedicated playlists ready to go at a moment's notice. This year however, I wanted to add another element of Fall into my life, because I truly believe you can never have too much, and make a playlist of movies to watch over the coming months. I've always made sure to watch a handful of Halloween movies every year, so I figured why not add a few others into the roster. So here is my list of all the movies I'll be watching this Fall!
Let's start with our Halloween classics- which I will watch as early as Labor Day Weekend.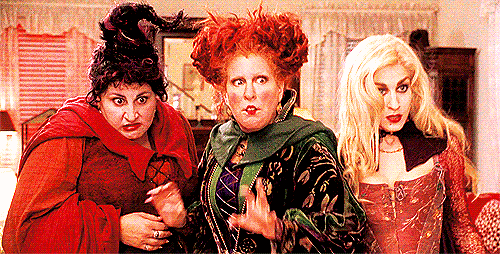 Hocus Pocus (Because it is a classic, and how could you not?)
Halloweentown

1-3 (I'm not down with 4, you can't just switch Marnie's and expect me to be okay with it)

Twitches and Twitches Too (This is purely for the nostalgia, but also because who doesn't want to watch a movie about twin witches separated at birth?)
Hotel Transylvania or Monsters Inc (Big kid at heart, so you gotta have at least one kid's movie on the list)
The Good Witch ( There's a lot of them, so if you don't have time to watch them all, I'd say the first one is a good choice)
Addams Family (Again, a lot of nostalgia at play here)

Practical Magic

Nightmare Before Christmas
I'm not the biggest Halloween fan, so don't shoot me if your favourite didn't make the cut- but those are my top contenders.
And then there are the cheesy Autumn centric movies (almost all of them are hallmark) that I can't convince anyone else to watch, but if you are also a fan of the cheese, then I know you'll love them! That is if you haven't seen them already! (I won't lie, a lot of these are from Hallmark's Fall Harvest lineup, I just chose my favourites!)
Harvest Love

A Harvest Wedding

Harvest Moon (Hallmark really capitalizes on the word harvest)

Autumn Dreams

When Harry Met Sally (The Fall foliage really hits you hard in this one! I watch this movie twice a year- once in the Fall, and once on New Year's Day)
You've Got Mail (I love Tom Hanks, and I love Meg Ryan. Enough said
I'm sure that's more than enough to get you through the season. But if it's not, be sure to check out Freeform and Hallmark, because they always have some classics playing during the months of October and November. Now I'll see you guys in December, when I inevitably let you know about all the Christmas movies you have to watch this year!
Much Love,
Spense xx